PataNoir
Screenshots (PC)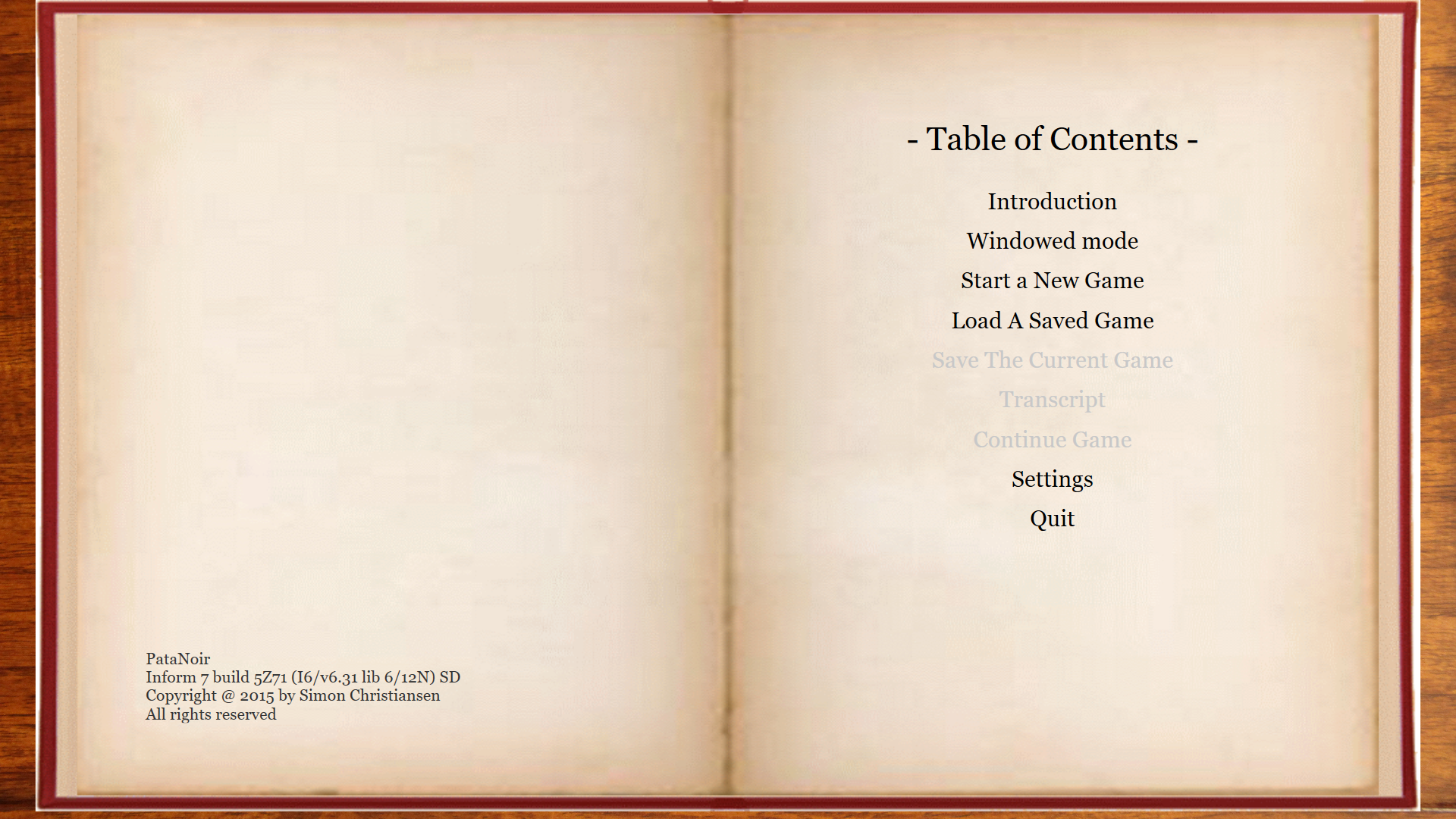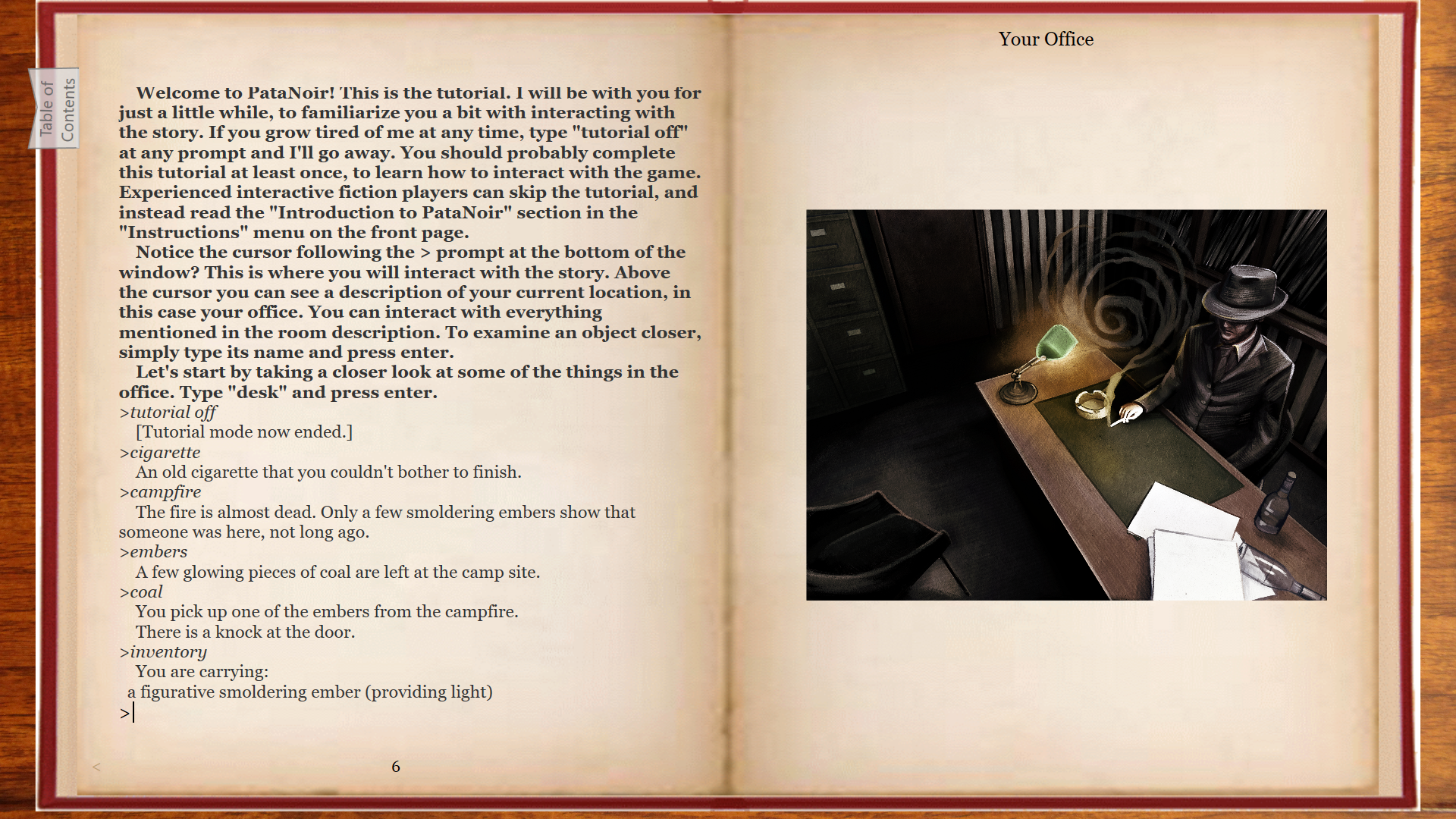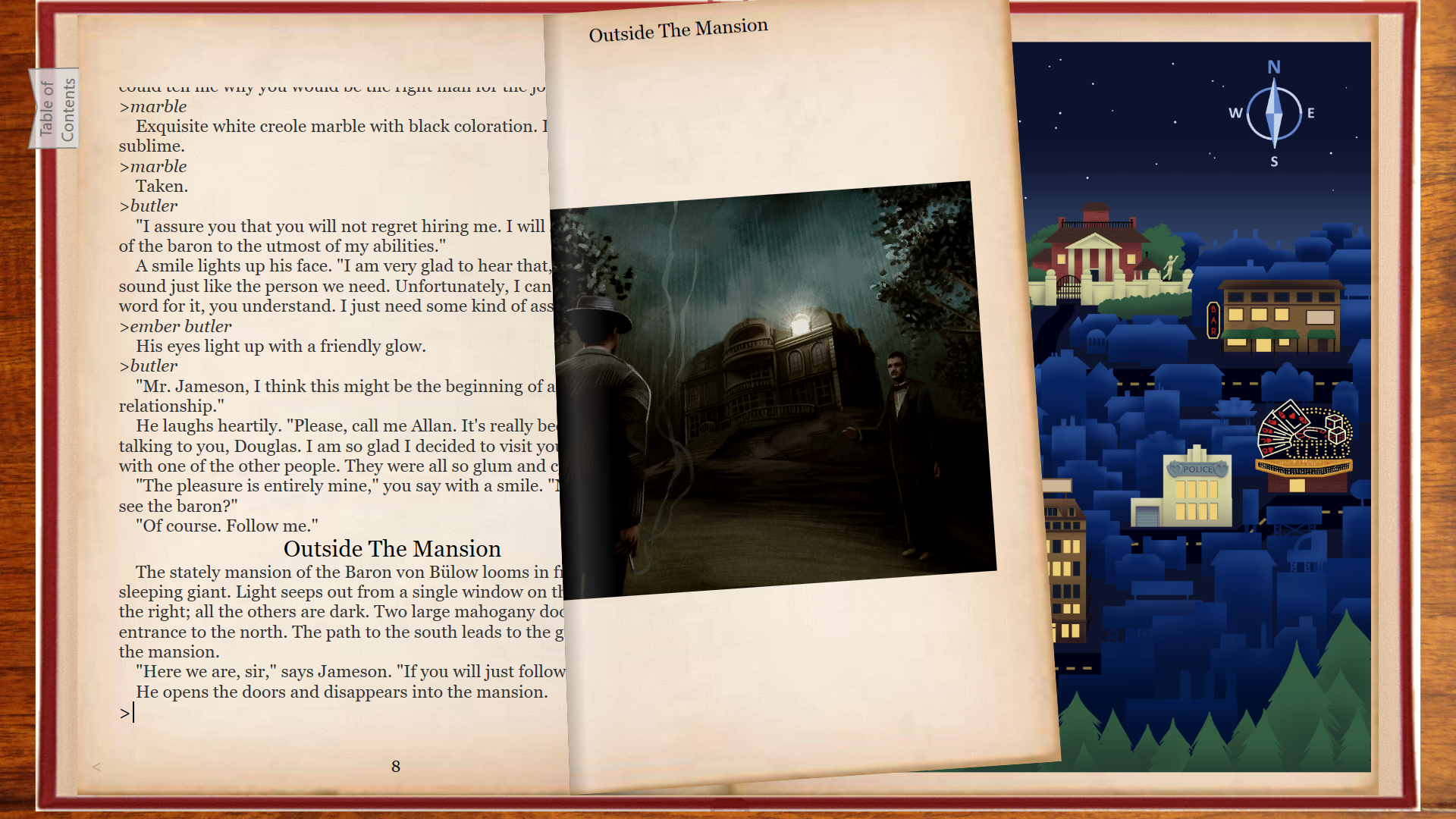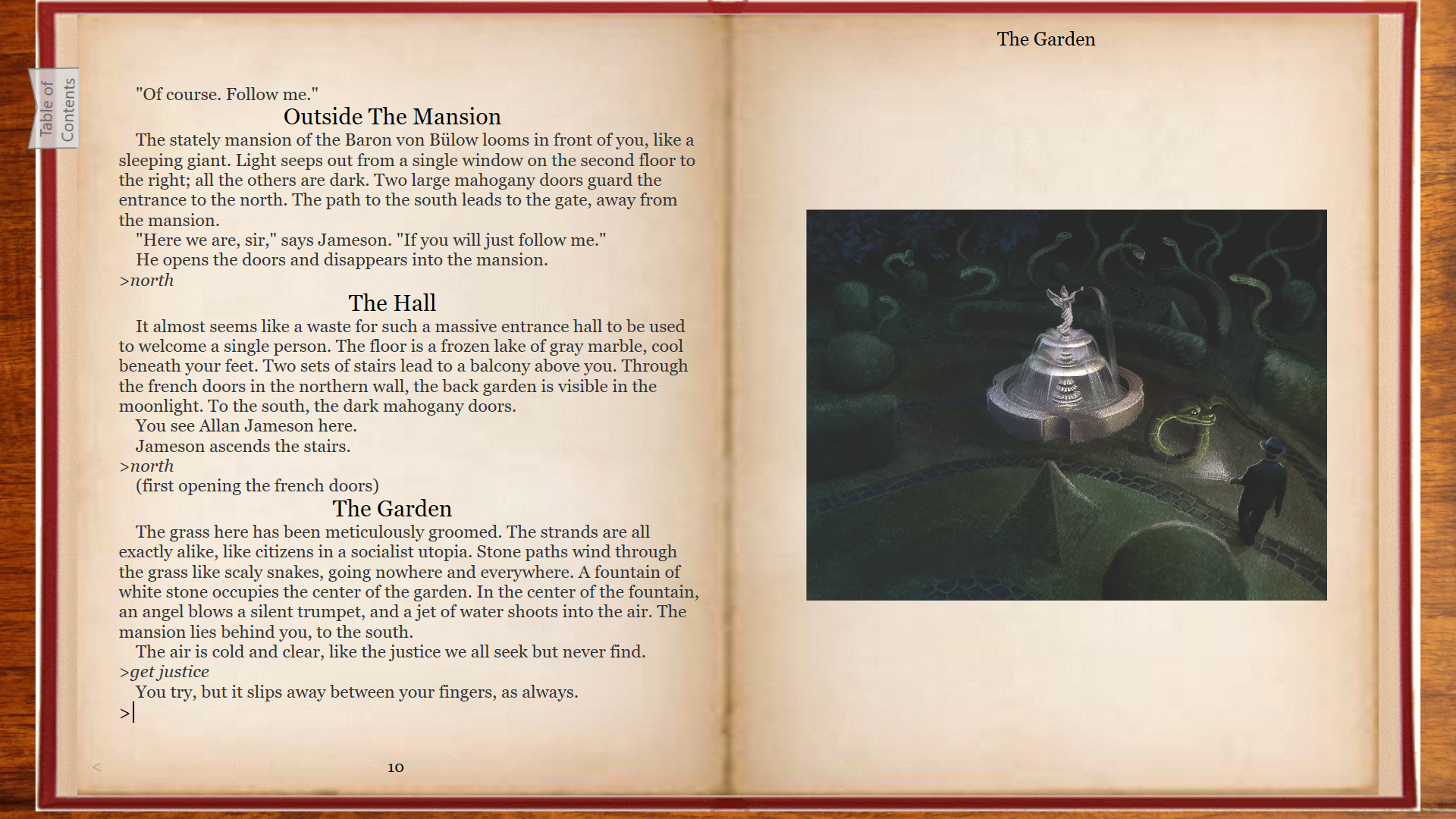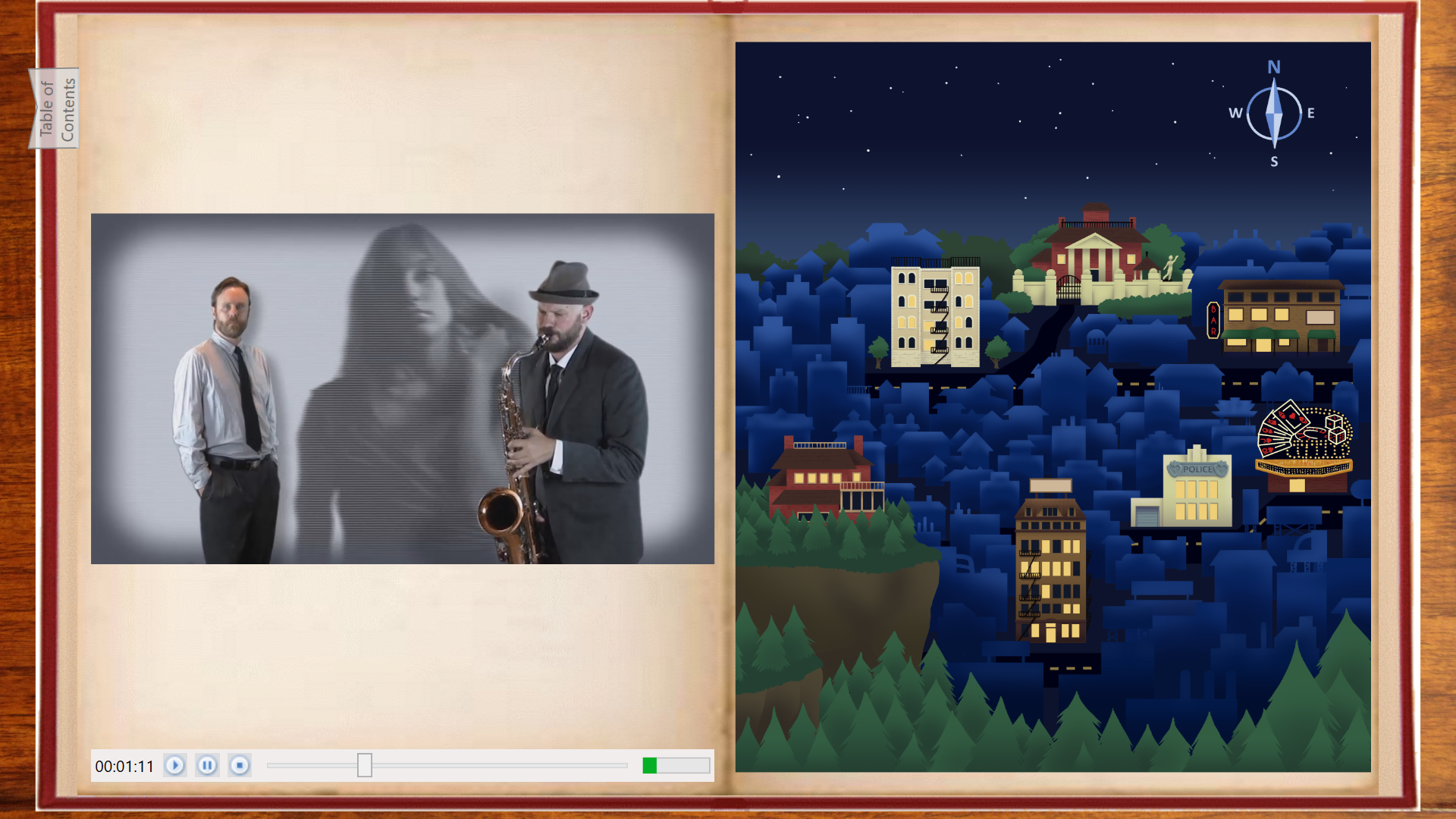 High-res screenshots in a .zip file (42.7 MB)
Videos
Press
"For those who love language, PataNoir is like a breath of fresh air...a reminder of the beauty of a complex sentence and the power of carefully chosen words." - JustAdventure
"Two old, fantastic forms of narrative combine to form something truly unique in PataNoir." - Gamezebo
"I don't recall any other game that does anything quite like this." - Emily Short
"Like words? Play with simile and metaphor in this unusual mystery app." - Boing Boing
"PataNoir is strange, unusual, at times frustrating, but creates an amazing surreal landscape in such a short time." - OPNoobs
"In the Internet age, any game which helps cement the curmudgeonly distinction between "literally" and "emphatically" warms my heart." - Pocket Tactics
"...a nigh on unmissable adventure that's simultaneously a perfect entry to the world of text-based gaming and refreshingly different to satisfy the most hardened of genre veterans." - IndieGames.com
Winner, Best Puzzles - 2011 XYZZY Awards
Description
"The Baron's daughter is missing, and you are the man to find her. No problem. With your inexhaustible arsenal of hard-boiled similes, there is nothing you can't handle."
PataNoir is a homage to the classic stories of hard-boiled private investigators with a knack for describing everything with complex similes and metaphors. In PataNoir, you solve problems by manipulating the hard-boiled metaphors used by the main character to make sense of the world in which he lives.
Features:
An interactive noir mystery to experience and solve
Innovative interactive fiction gameplay in which the metaphors you live by become tools to solve the mystery
Atmospheric illustrations by Lauri Ahonen and Tom Siddell
Original theme song by postmodern rock musician William Steffey
Behind the scenes »

The idea for PataNoir came to me after learning about Alfred Jarry's pataphysics, and the related concept of the pataphor — a metaphor that becomes reality. I had long been wanting to make a noir game where hard-boiled metaphors would somehow be an essential part of the gameplay, but I couldn't quite figure out how to pull this off. I considered having the player select metaphors from a menu, which would then affect how the scene played out, but it just didn't go anywhere.

The pataphor provided an obvious gameplay mechanic. Manipulating objects is, after all, an essential part of most adventure games, so if a metaphor became an object, it could be manipulated like any other. Thus, PataNoir was born.

The original version of PataNoir took fifth place in the 2011 Interactive Fiction Competition, and was later awarded the Xyzzy Award for Best Puzzles. It has also been featured in Pataphor Magazine.

The commercial release has been significantly improved and expanded with professional art and a theme song.
---